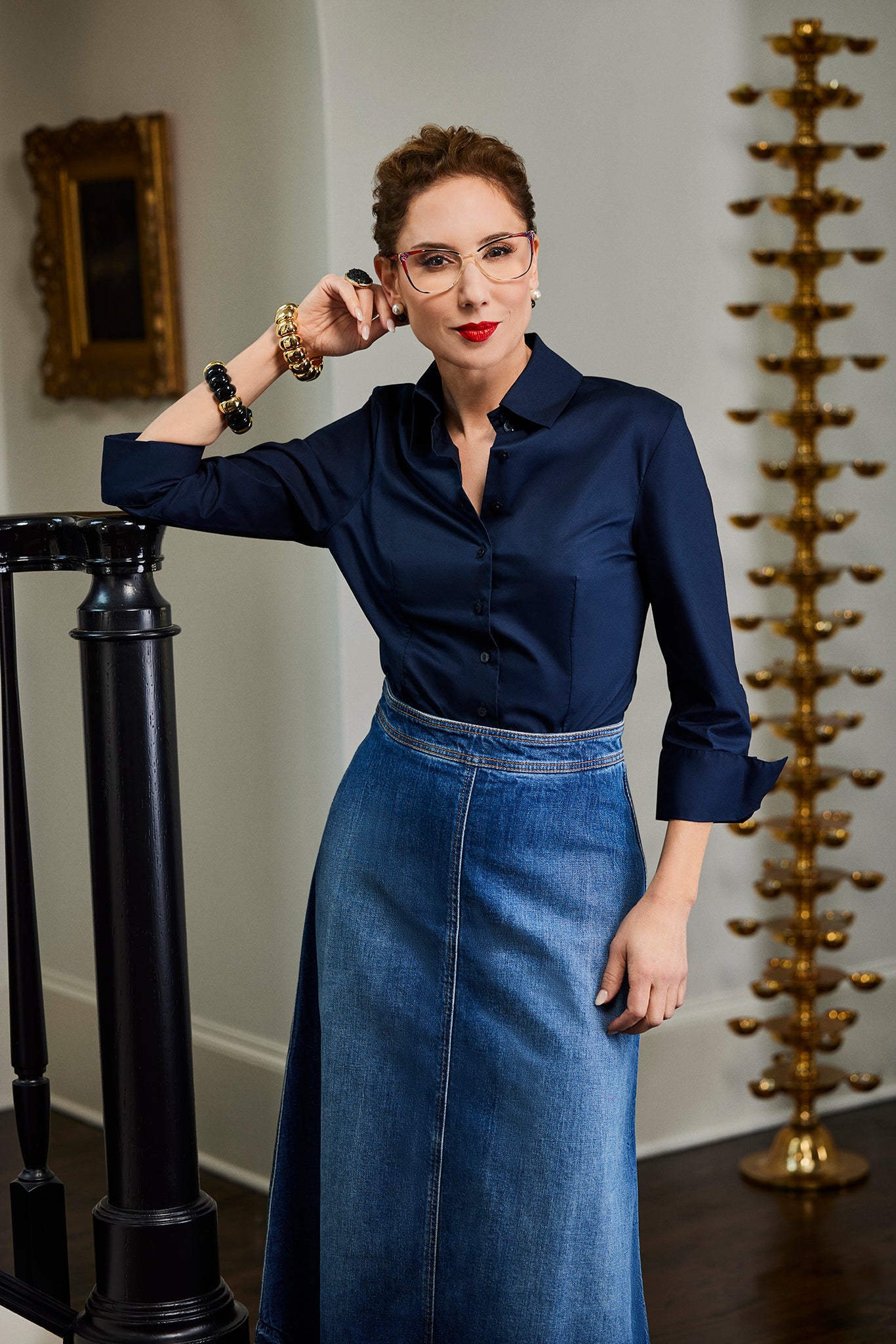 The Essential Fitted Shirt
CARLA ROCKMORE CLOTHING COLLECTION

These pieces are your canvas. Adorn them with your own personal style.
The Essential Fitted Shirt, the must have piece for every woman on-the-go. This classic cotton poplin fitted shirt features a slightly higher stand underneath the collar to elongate the neck, a tailored bodice with princess darts and a stretch jersey back that hugs your shape and stays tucked in. The three-quarter sleeves add a touch of elegance, making this shirt suitable for both casual and formal events.
Model Information: Carla is 5'5" and is wearing a Size S.
Materials: Front: 96% cotton, 4% spandex Back: 92% cotton, 8% spandex
Model Information: Carla is 5'5" and is wearing a Size S.
Shipping
U.S. Domestic Shipping - Click here to reference our shipping policy

International Shipping
International shipping is available for the following countries: Australia, Canada, France, Germany, Ireland, Italy, Mexico, Netherlands, Philippines, Spain, United Kingdom, South Africa, New Zealand, Belgium, Switzerland, Hungary, Sweden, Greece, Croatia, Israel, Åland Islands, Albania, Andorra, Armenia, Austria, Belarus, Bosnia & Herzegovina, Bulgaria, Cyprus, Czechia, Denmark, Estonia, Faroe Islands, Finland, Georgia, Gibraltar, Greenland, Guadeloupe, Guernsey, Iceland, Isle of Man, Jersey, Kosovo, Latvia, Liechtenstein, Lithuania, Luxembourg, Malta, Mayotte, Moldova, Monaco, Montenegro, North Macedonia, Norway, Poland, Portugal, Réunion, Romania, San Marino, Serbia, Slovakia, Slovenia, Svalbard & Jan Mayen, Turkey, Ukraine, Vatican City, Hong Kong SAR, India, Japan, Bahrain, Qatar, Saudi Arabia, United Arab Emirates, Oman, Singapore, Brazil, Colombia.

At checkout, enter your zip code to calculate shipping costs. Duties and taxes/VAT will be calculated at checkout and include it in the final shipping cost.

Click here to reference our international shipping policy