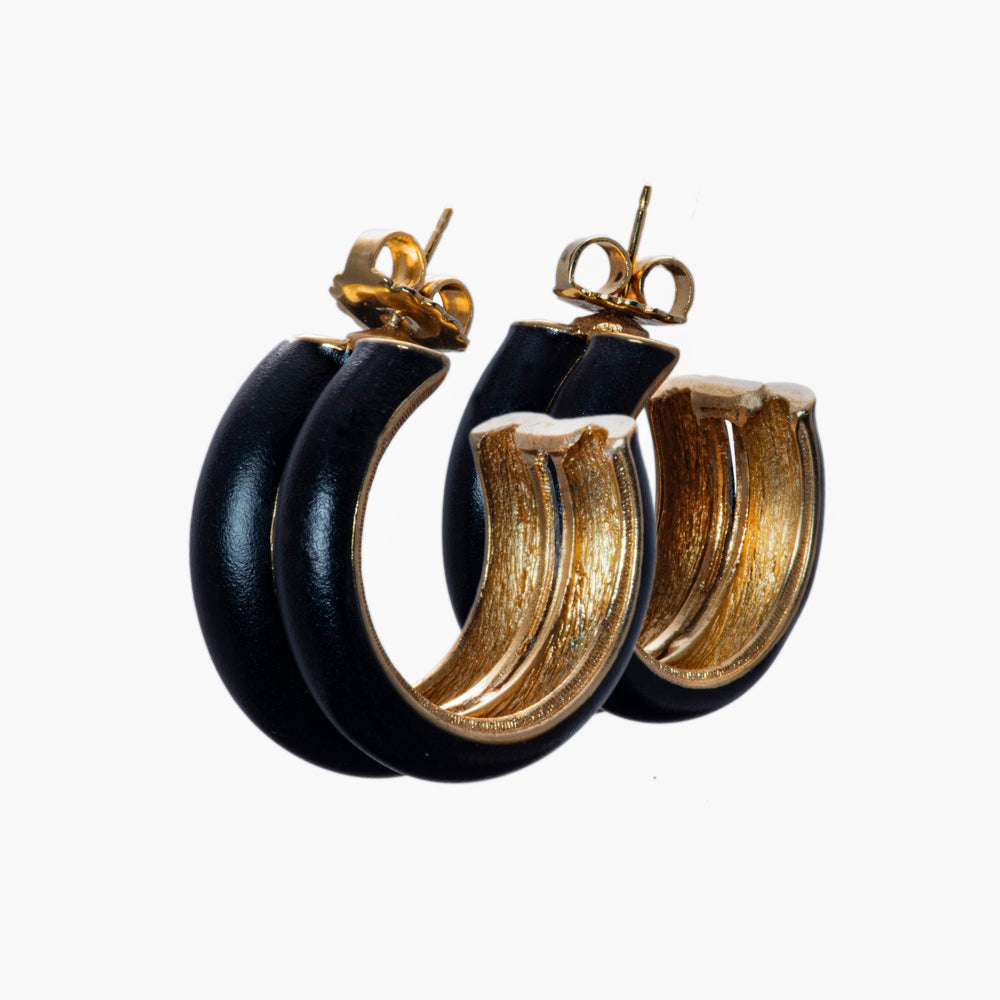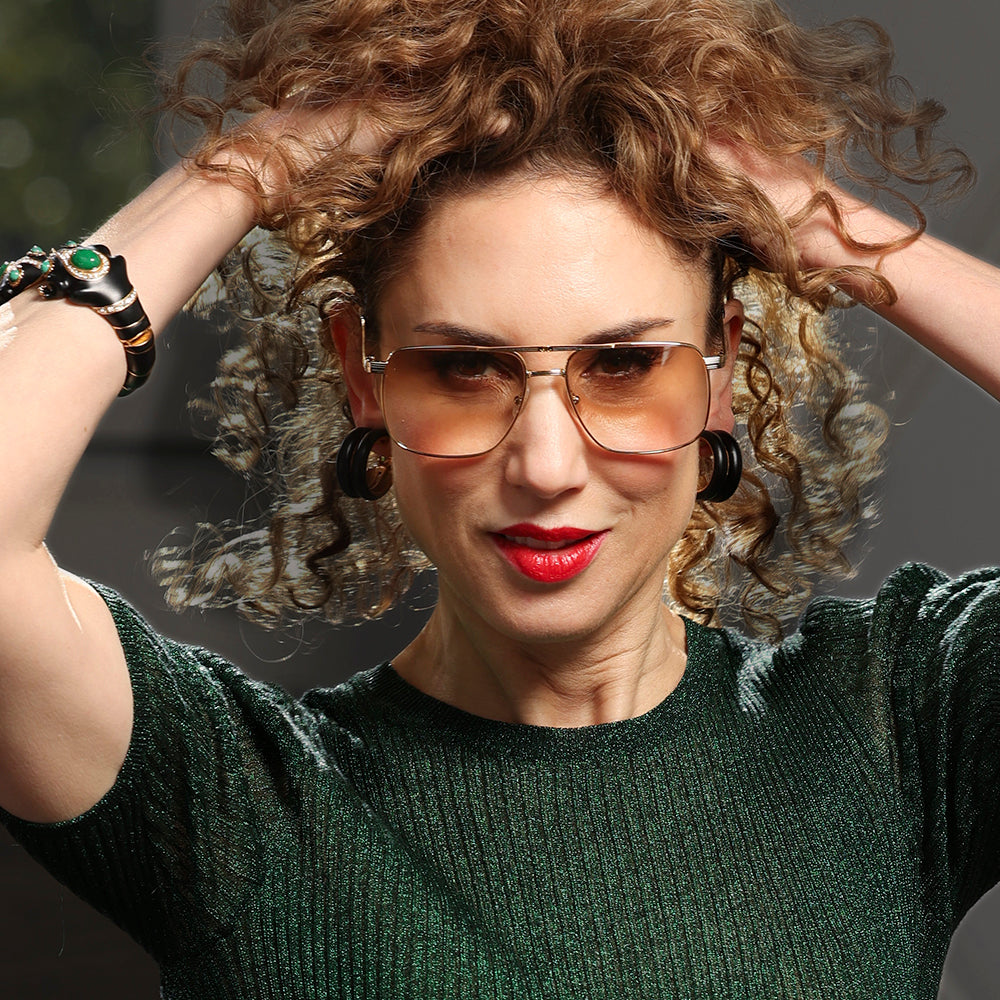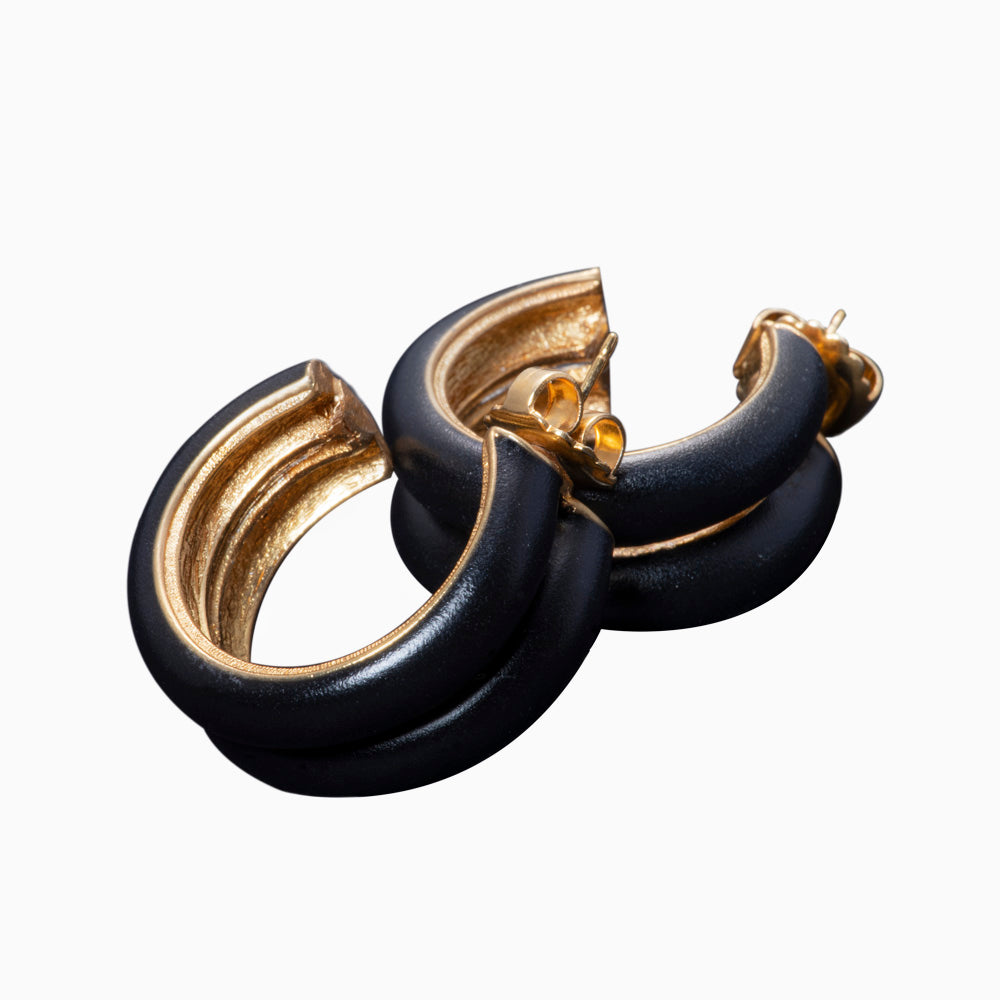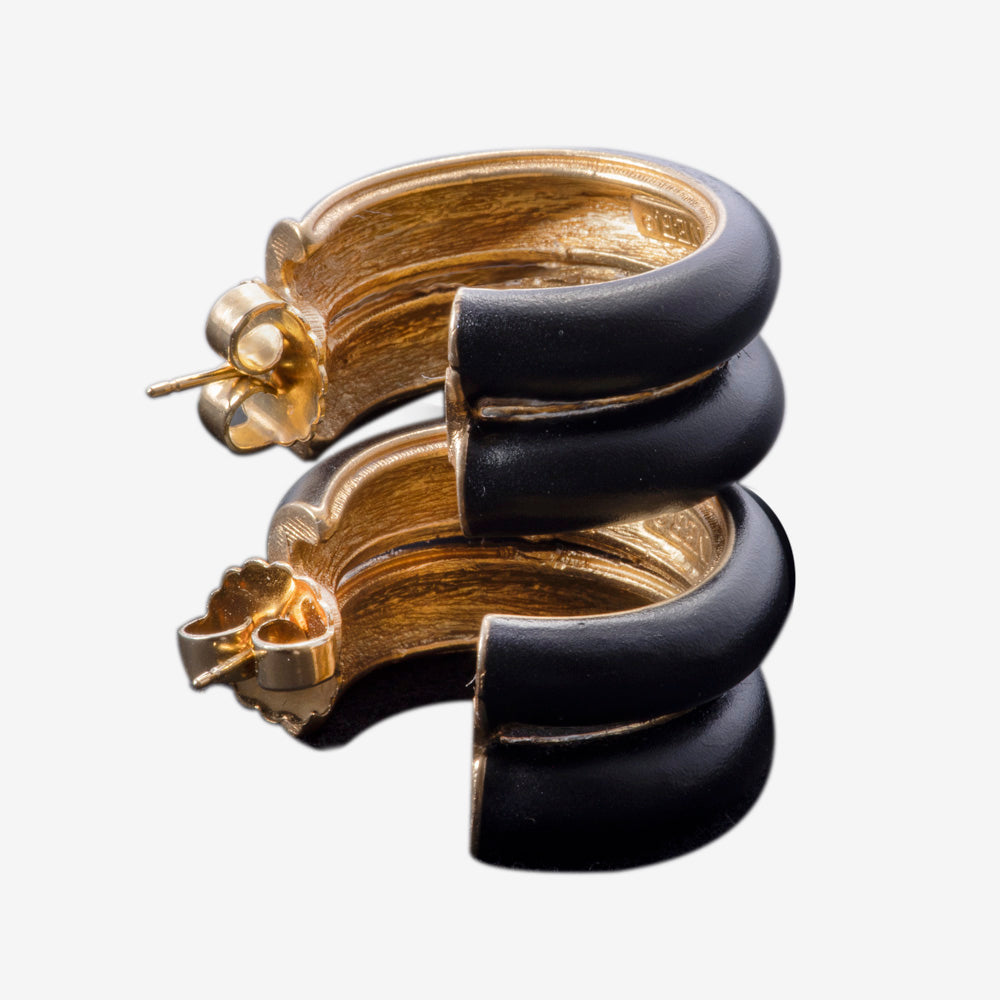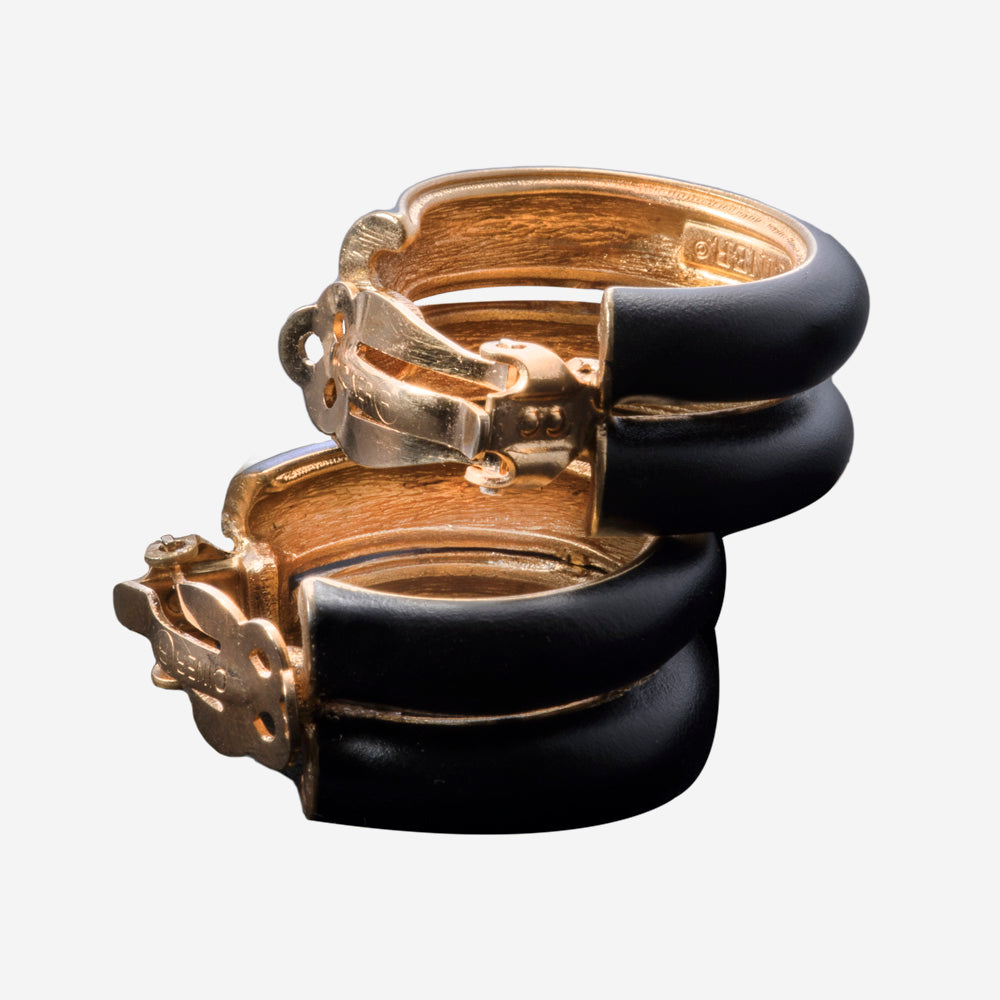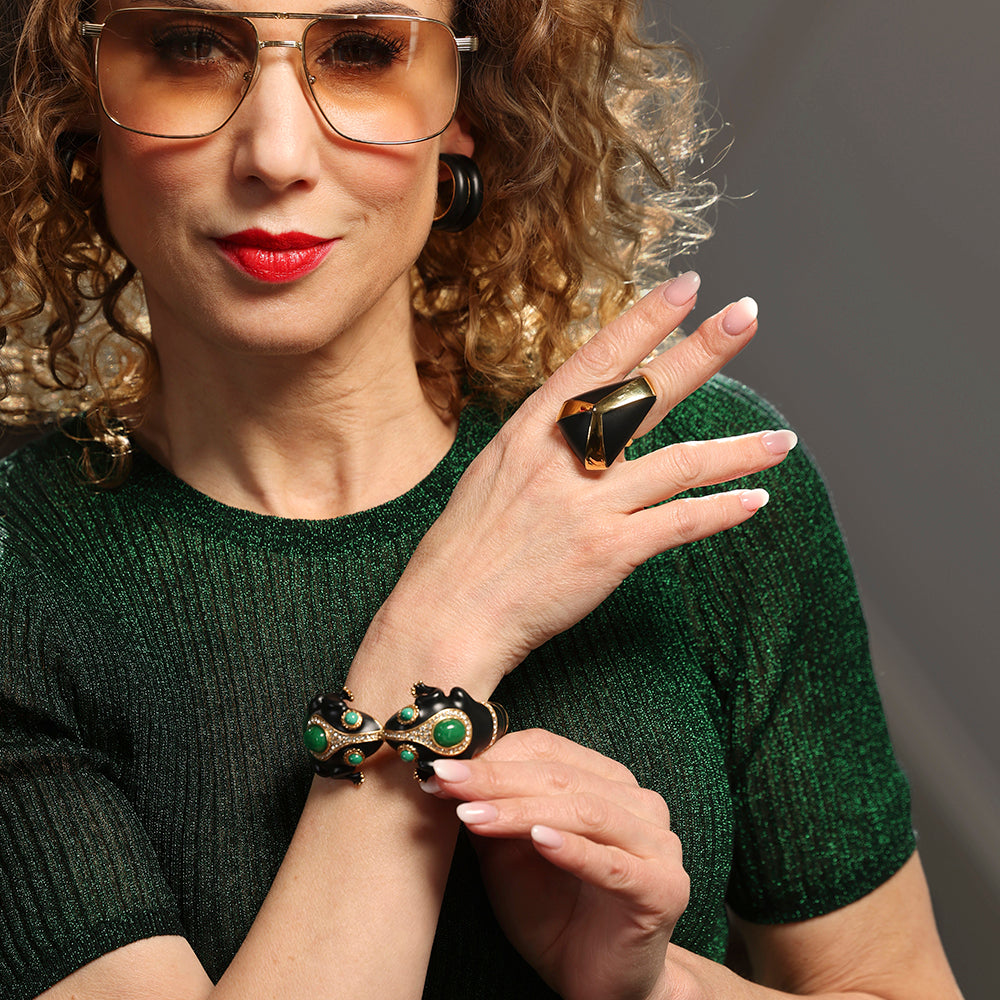 + Save Extra 15% With Code: HOLIDAY15
Carla Rockmore X Ciner New York is a marriage of thoughtful style with classic references. Inspired by Carla's overflowing personal closet full of designer and one-of-a-kind vintage clothes and accessories, Carla feels that clothes and accessories shouldn't be reserved for special occasions. She's a believer in making every day an occasion through the art and self-expression of getting dressed.
A vintage-cool take on a jewelry box staple, Carla designed these chunky double hoops in chic matte black enamel with a gold tone finish. Available for pierced ears as well as clip-ons.
Gold plated brass with matte black enamel. 
Dimensions: 26mm x 14mm x 4mm
Material: Gold Plated Brass, Enamel
Shipping
U.S. Domestic Shipping - Click here to reference our shipping policy

International Shipping
International shipping is available for the following countries: Australia, Canada, France, Germany, Ireland, Italy, Mexico, Netherlands, Philippines, Spain, United Kingdom, South Africa, New Zealand, Belgium, Switzerland, Hungary, Sweden, Greece, Croatia, Israel, Åland Islands, Albania, Andorra, Armenia, Austria, Belarus, Bosnia & Herzegovina, Bulgaria, Cyprus, Czechia, Denmark, Estonia, Faroe Islands, Finland, Georgia, Gibraltar, Greenland, Guadeloupe, Guernsey, Iceland, Isle of Man, Jersey, Kosovo, Latvia, Liechtenstein, Lithuania, Luxembourg, Malta, Mayotte, Moldova, Monaco, Montenegro, North Macedonia, Norway, Poland, Portugal, Réunion, Romania, San Marino, Serbia, Slovakia, Slovenia, Svalbard & Jan Mayen, Turkey, Ukraine, Vatican City, Hong Kong SAR, India, Japan, Bahrain, Qatar, Saudi Arabia, United Arab Emirates, Oman, Singapore, Brazil, Colombia.

At checkout, enter your zip code to calculate shipping costs. Duties and taxes/VAT will be calculated at checkout and include it in the final shipping cost.

Click here to reference our international shipping policy